The World's

Fastest 
iTunes DRM Removal
Remove DRM from Apple Music, Convert Apple Music to MP3;
Remove DRM from iTunes movies, Convert iTunes M4V to MP4;
Freely watch iTunes movies and enjoy Apple Music songs on the trip;
Play iTunes videos/songs on Android phone, PS4, media player and etc;
Make your own backups of iTunes purchased items with no fear of losing;
20X faster speed, 100% quality kept, Basic skill level. Support iTunes 12.7.
iTunes Music DRM Removal: an excellent Apple Music Converter
$39.95 for Mac
$39.95 for Windows
iTunes Movie DRM Removal: a powerful iTunes M4V Converter
$49.95 for Mac
$49.95 for Windows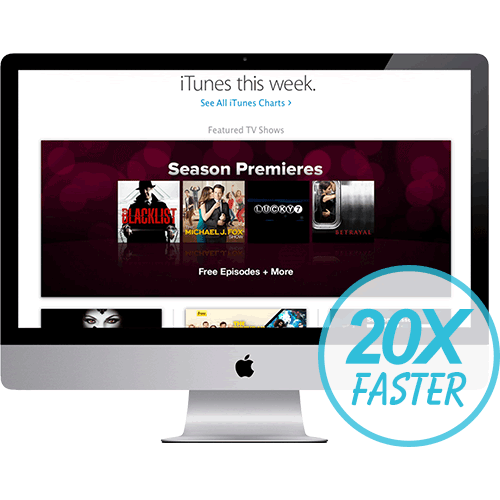 Featured
This  DRM media converter has featured on…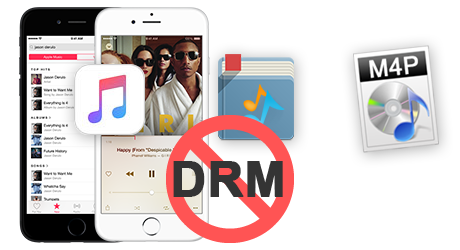 Enjoy Apple Music anywhere, at any Place
Although subscribing to Apple Music streaming service allows you to enjoy millions of songs at one place, it can't save you from transferring Apple Music songs to SD card, listening in the car with CD, or via your favorite MP3 player…
To make it possible to enjoy Apple Music anywhere, here iTunes music DRM removal helps you unlock the DRM restrictions of Apple Music, iTunes M4P songs, convert Apple Music songs and playlists to DRM-free MP3, AAC and etc audio files with excellent quality.
$39.95 for Mac
$39.95 for Windows
Wanna remove DRM from Spotify songs, audiobooks or eBooks? Check the ultimate list of DRM removals.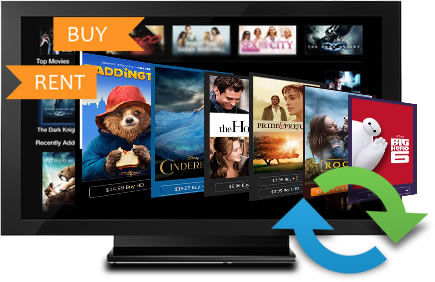 Own the iTunes Movie / TV Show You Paid
Your paid iTunes media files are forced to be watched on Apple devices only, while, sometimes you need to move them here and there for storing on external hard drive, or watching on new bought Samsung Galaxy S8 (non-Apple device) for legally usage. Despite all this, your simple demand can't be supported because the Apple's FairPlay DRM of the iTunes media content protects them from being copied.
To free the iTunes movies you purchased, here the iTunes movie DRM removal helps you remove DRM from iTunes M4V movies (including iTunes Extras), TV shows and music video, even, convert the rental iTunes videos for your enjoying without 24 hours playback limitation.
The iTunes movie DRM Removal is able to convert your iTunes purchased and rental movies to MP4, MOV, AVI… for playback on either Android phones, tablets or game consoles with excellence performance.
$49.95 for Mac
$49.95 for Windows
Basic Skill Level; Easy as 1-2-3
You want to do one simple thing, and you need the tool to do it well. That's what our iTunes DRM removal performs.
For converting iTunes music, especially Apple Music, the iTunes music DRM removal converts the Apple Music songs to MP3, AAC or lossless FLAC, WAV like a charm. With only simple 3 steps, you could remove the DRM from Apple Music and enjoy them on your MP3 player, CD in the car and etc.
$39.95 for Mac
$39.95 for Windows
For converting iTunes movies, the iTunes movie DRM removal recognizes your iTunes media library automatically, saving your time to search the iTunes media folder. The actual process of converting your DRM-restricted files is incredibly easy, and even if you are not super computer-savvy, you will be able to figure it out. (1. load file > 2. choose output > 3. convert.)
$49.95 for Mac
$49.95 for Windows
Due to its simplified and well-designed interface, you DO NOT need to learn extra things to get it up and running.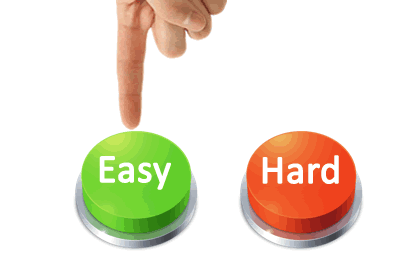 Quality is A Must; Play on Any Device Flawlessly
Keep away from the poor sound or picture quality. We can't bear it like you do. iTunes DRM Removal outputs 1:1 copy, 100% lossless quality result.
Different from other iTunes DRM removal tools in the market, this tool converts iTunes DRM M4V movies/TV shows/music videos, even the iTunes Extras to MP4, MOV, AVI or other plain video formats while retaining the 100% original perfect video quality. It supports 1080P HD and SD iTunes movie converting smoothly. For music enthusiast, you would love the 320kbps output which preserves the original Apple Music sound quality after conversion. No matter which device you want to use to play converted iTunes movies or Apple Music songs, you always get the best. 
You are not limited to play iTunes movies or Apple Music songs on Apple devices only! The iTunes DRM removal sets them free.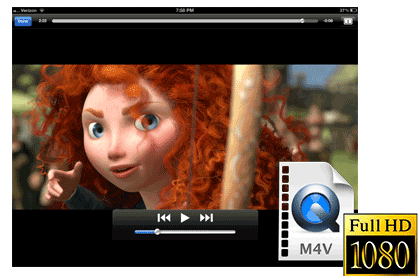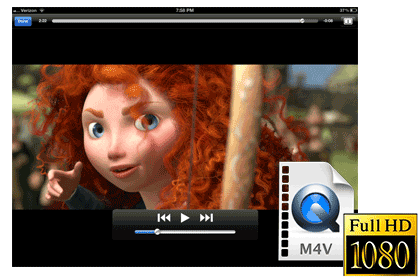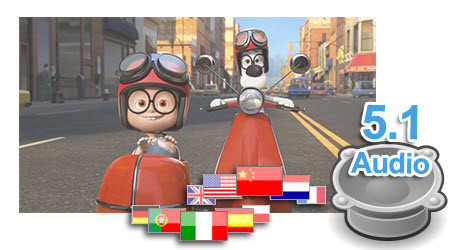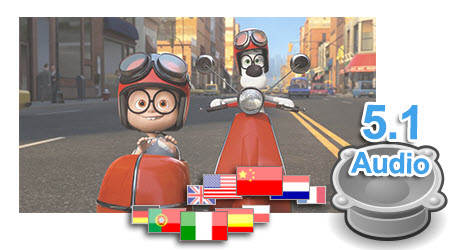 Retain

 

All Subtitles and All Audio Tracks

UNIQUE
(CC and AD & AC3 5.1 audio track are supported)
Not only keep all multi-language subtitles and audio tracks, but also keep closed caption and preserve the  AC3 audio track (5.1 Dolby audio) as well as audio descriptions of the iTunes movie after conversion. This feature is quite unique and fantastic! Movie lovers would be extremely happy with that. Enjoy the converted DRM-free video with Dolby Surround audio that delivers multchannel audio when played using Dolby Pro Logic system. Cool!
You are not in the cinema, but rather in the cinema at home!  Watching experience gets no much better ever!
A headache to sort out massive collection of music? Don't worry! With iTunes music DRM removal, information including Artwork, Metadata (artist, disc number, composer, album, year, track number, genre) can be kept after conversion. 
Time is the Key; 20X Faster Conversion Speed
Both iTunes music converter and iTunes M4V movie converter are currently the fastest available iTunes DRM remover in the market, being able to complete its job in less than half the time it takes other programs to convert the same file. It enables 20X faster conversion speed. The application will scan and detect the songs or movies automatically. For Apple Music, it takes around 10 seconds to convert a 4-min song.
$39.95 for Mac
$39.95 for Windows
For iTunes video, it takes just a few minutes to work through a 45-minute television show. 
$49.95 for Mac
$49.95 for Windows
If you don't want to waste time, you'll definitely love the speed this software can run through an entire library of iTunes music and movies.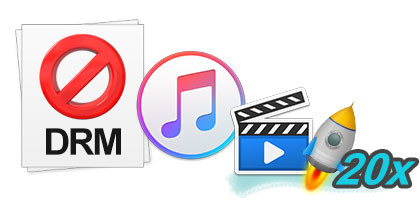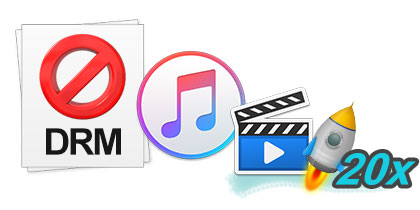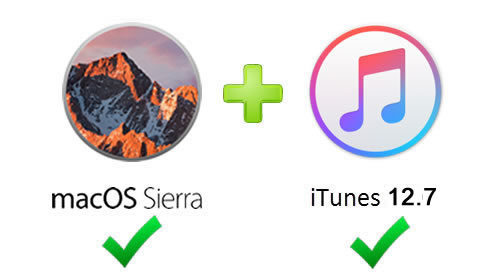 Completely compatible with macOS Sierra and iTunes 12.7
Wanna upgrade the Mac OS or iTunes version, but worry about the application compatible problem? It never be an issue to our iTunes DRM Removal! The tool is completely compatible with Mac OS Mountain lion 10.8, Mavericks 10.9, Yosemite 10.10, EI Capitan 10.11, macOS Sierra and the latest iTunes 12.7, and will constantly be upgraded for each new system and iTunes version. For Windows, it is fully compatible with the latest Windows 10.
It is a fantastic experience to use the iTunes DRM Removal on your Mac with the latest amazing macOS Sierra!
Note: iTunes music DRM Removal supports macOS High Sierra 10.13.

Intuitive Interface

Batch Conversion

Free Updates
Save 30% to Get Apple Music Converter + iTunes Movie DRM Removal
 
Secure Payment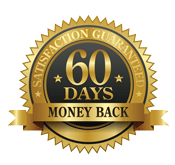 60 Days Money Back Guarantee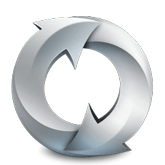 Life-time Free Updates

Super easy to use to remove iTunes DRM

Fast and keep the subtitles and all the language sound versions

Reliable Solution to Remove DRM from M4V Files

Powerful Mac DRM Removal