How to Convert iTunes M4V to MP4 on Mac or on Windows with Simple 3 Steps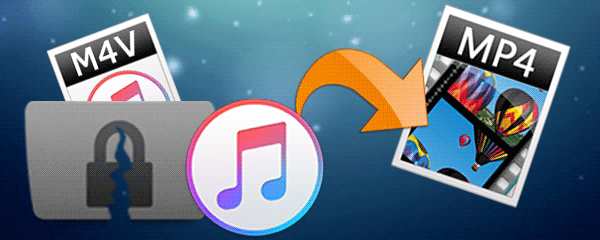 The post would help people who have the similar issues on converting iTunes M4V to MP4 as below:
The main reason I want to convert M4V videos to MP4 format is that I have a large store of iTunes movies in my computer hard drive, and I want to transfer some of these movies to my new Google Pixel. I know MP4 format is the most universal for every mobile device. Anybody know a M4V codec tool to help? -Jim
Can anyone tell me the most straightforward program I could use to turn this .m4v file into .mp4 without losing too much quality and keeping everything else the same? I read somewhere that .m4v and mp4 are more or less the same thing and some people even suggested to just change the file extension etc. (which doesn't work.) -Kitty
I've played with a lot of converters in my time (Handbrake & Staxrip to name but two), but none of them works with iTunes M4V videos, they all failed to convert iTunes videos to MP4, why? Anything special with iTunes M4V videos? -Rose
What is M4V? M4V vs. MP4? Why Convert iTunes M4V to MP4?
M4V, short for "MPEG for Video" is a special video format that mainly used by Apple. M4V is very close to MP4. Both .m4v and .mp4 are extensions for the MPEG-4 Part 14 container format. Unprotected M4V files may be recognized and played by other video players by changing the file extension from ".m4v" to ".mp4". As to this issue, there is no conversion needed. However, it is not the same thing to iTunes M4V videos. iTunes M4V videos, which refer to the movies, TV episodes, music videos purchased from iTunes store, are encoded with a DRM technology called, euphemistically, "FairPlay".
The video (which is with M4V format) you download from iTunes are probably "protected" by FairPlay. It means that, outside of the Apple ecosystem, you probably cannot do anything with these files. That is the difference between M4V and MP4. MP4 is the most universal video format supported by nearly all devices. So the problem is not about changing the file extensions, but about "circumventing" the FairPlay encryption. And because of the DRM, the popular video converters such as Handbrake, Freemake could not convert iTunes M4V videos to MP4.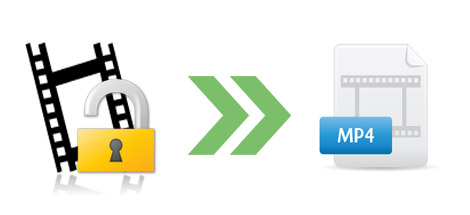 What we are looking for is an iTunes DRM M4V to MP4 video converter.
It is clearly that it is the DRM stops us from converting iTunes videos to MP4 or other plain video format for playing on smartphones or media players. What we are looking for to convert iTunes M4V to MP4 is an iTunes DRM movie converter.
Requiem used to be an excellent free iTunes DRM removal program which could get the work done in the past. However, it cannot support the latest iTunes. If you want to keep using it, you have to keep an extra hard drive with a bootable 10.6 system and old version of iTunes on it.
The iTunes DRM movie converter we use here is the best Requiem alternative, which is capable of converting iTunes M4V to MP4 in simple 3 steps, with 20X fast speed, retaining lossless quality.
When we choose M4V DRM removal, the most important factors we consider are quality and speed. We don't want to keep an eye on the iTunes M4V files we are going to convert, we want the process is easy as only a few clicks and then the program will do the rest automatically and in a fast speed. We don't want to wait hours to enjoy our favorite movie with bad quality as someone recorded it using their phone in the cinema. DRM Wizard can offer you 20X faster speed, 100% quality kept experience when converting iTunes videos to MP4.
Only $49.95 For Mac
Only $49.95 For Windows
3 Steps to Convert iTunes M4V to MP4 on Mac and on Windows:
Here we will show you how easily it works to convert iTunes .m4v to .mp4 with excellent iTunes M4V DRM removal.
On Mac:
Supported Mac OS: Mac OS 10.8, 10.9, 10.10, 10.11 & macOS Sierra
The latest iTunes is supported.
1.Add M4V files from iTunes Library
Click "Add Movies" button to import the iTunes M4V files you want to convert from the iTunes Library by default. Click "OK" to load the M4V files. You can also copy & paste the iTunes rental movies on the desktop and then import them by dragging & dropping.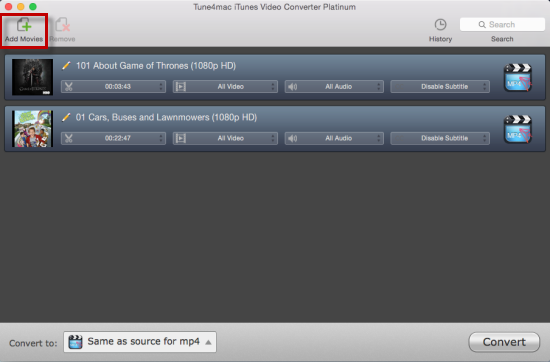 2.Select output path and format
Click Tune4mac iTunes Video Converter Platinum > Preferences to browse and select the output path you would like to put the converted MP4 files in.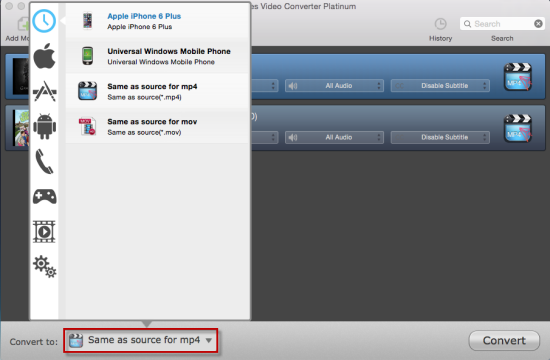 Click the bottom-left box, you can select the output format. Forget those confusing parameters. We just want to enjoy the movie, we don't need to be an expert, just choose the device you want to play on or simply choose "Same as Source as MP4".
3.Click "Convert" button and have a rest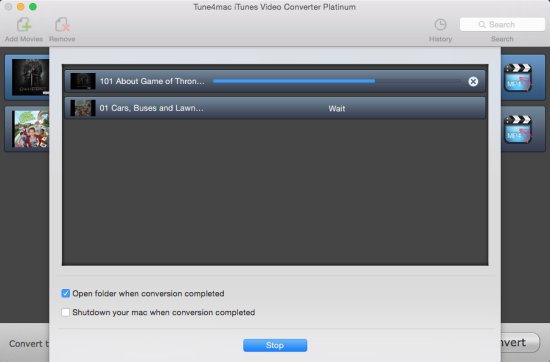 Yes, the tutorial is completed. I promised you before, you don't have to be an expert. Now you can use your iTunes M4V movies without limitation. It is yours, enjoy it!
Only $49.95 For Mac
Only $49.95 For Windows
On Windows:
Supported Windows OS: Windows XP, Vista, 7, 8 & 10 users (32-bit & 64-bit)
The latest iTunes is supported.
1.Add M4V files from iTunes Library
Click "Add Movies" button on the top left of the interface or click Center to load the iTunes M4V videos. The program detects your iTunes library automatically, saving your time to browse the file path, then to select with several clicks.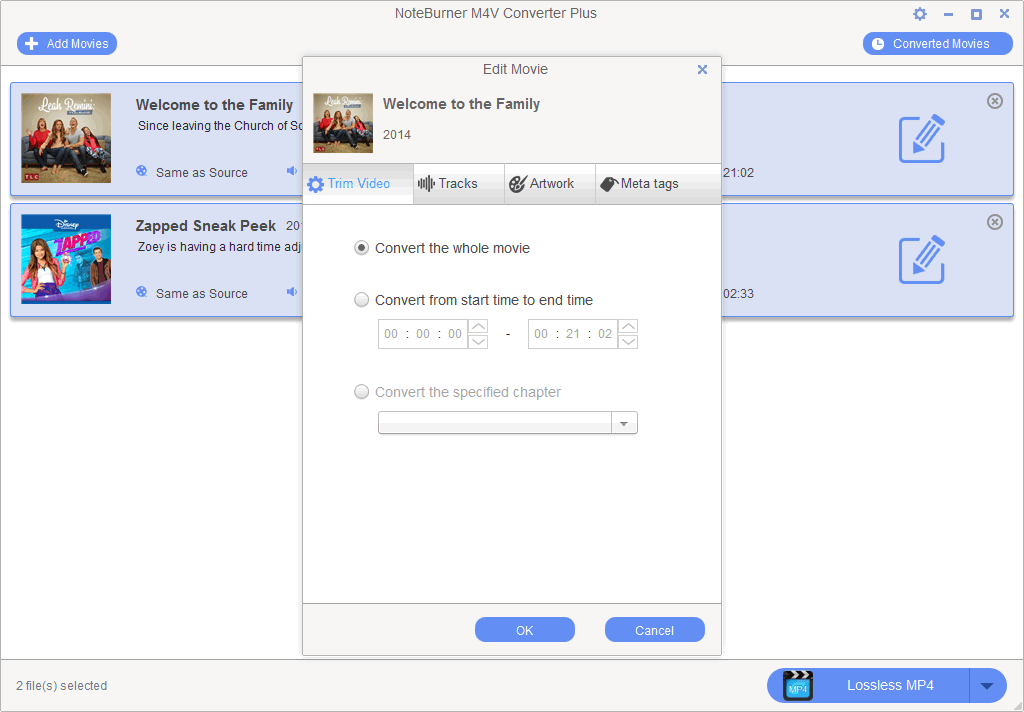 2.Select output format as lossless MP4
Select output format by activating the dropdown list on the right-bottom corner. The default output format is Lossless MP4. You can just leave it as default.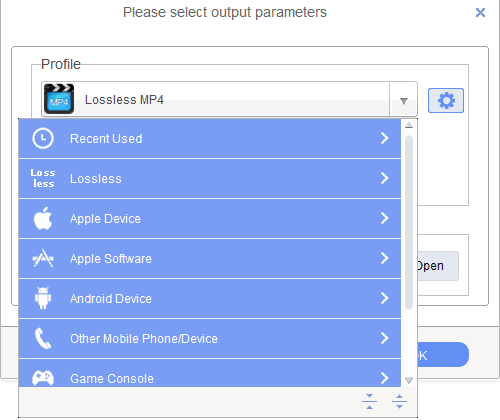 3.Click "CONVERT" button to start M4V to MP4 conversion and have a rest
By clicking the Convert button, the program is converting iTunes M4V videos one by one. With the 20X fast conversion speed, it takes around 25 minutes to complete the 2-hour M4V movie to MP4 conversion.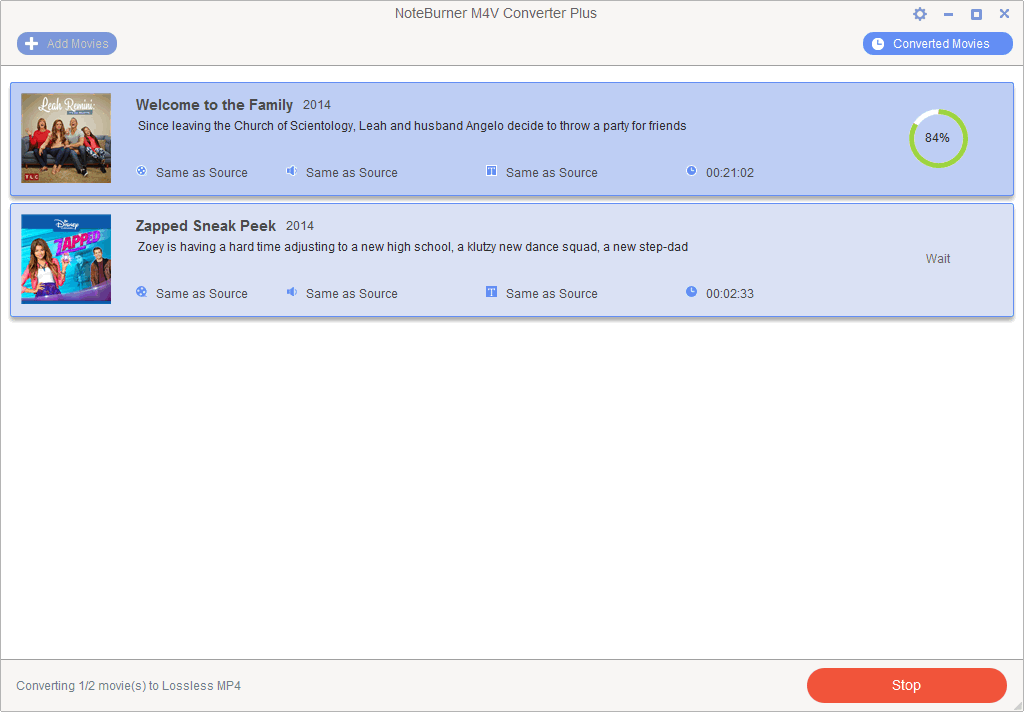 No matter you are using Mac or using Windows operation system, you could simply convert iTunes protected M4V movies or TV shows to MP4 with the iTunes movie converter in 3 steps. Thus, it becomes a piece of cake to enjoy iTunes movies on any mobile phone, tablets, media player, PS4 and etc with original quality.
Only $49.95 For Mac
Only $49.95 For Windows
Video Tutorial: how to convert iTunes M4V to MP4 on Windows?