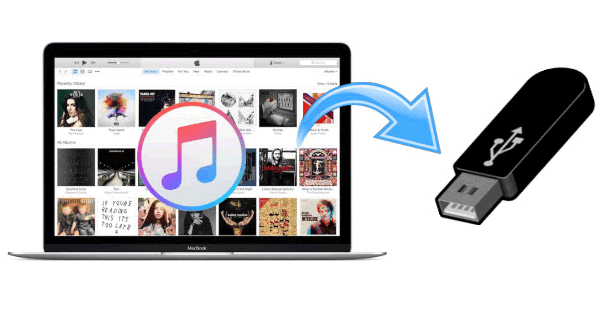 Since announced on June 30, 2015, Apple Music has made itself as one of the most popular music streaming services in the world. With Apple's powerful brand strength and abundant music collections (30 million songs), Apple Music now has over 10 million paid subscribers across the 100-plus countries in which it is available. Although Apple Music can be accessed from computer, iPhone, iTunes, Apple TV and Android, it can't be played on the car radio. What should do if we want to transfer Apple Music songs to play in the car through USB flash drive? This article would guide you to copy your Apple Music albums to USB stick and help you enjoy it everywhere.
Tools needed:
Mac or PC
iTunes installed
Subscribed to Apple Music
Apple Music Converter
USB flash drive
Add Apple Music Songs to iTunes Library on your Mac
You can find the entire Apple Music category in iTunes sorted by artists, albums, playlists and songs. What you need to do is to select the songs that you prefer and add them to your iTunes library.
In iTunes, find the song, album, or playlist that you want to add in the New or For You tabs, or search within Apple Music.
Click the More Options icon to the right of the song or album name.
Click Add to My Music.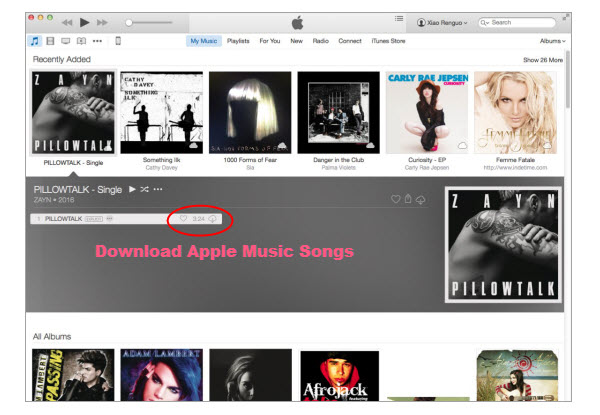 After that, check the song under My Music tab and click the cloud icon to download for playing offline.
Convert Apple Music Songs to MP3 and Transfer to USB Flash Drive
The downloaded Apple Music songs from iTunes are encoded at 256kbps AAC. Now we have two problems before copying Apple Music to USB flash drive. One is that the car radio only plays MP3, and the other is that the Apple Music song is DRM encoded.
As what Apple does to the iTunes movies, Apple also adds DRM on the Apple Music song that stops you from copying or sharing. There is no chance to save Apple Music songs to USB flash drive for playing in the car except for removing DRM from Apple Music. Thanks to the iTunes DRM Audio Converter, an excellent Apple Music converter that is capable of removing DRM from Apple Music and converting to common audio formats such as MP3, AAC, WAV with original quality kept.
1. Add Apple Music from iTunes library to Apple Music Converter
Click "+" button on the top or simply click the center of the program interface to open the iTunes library, where you could select any songs or playlist and import to Apple Music Converter.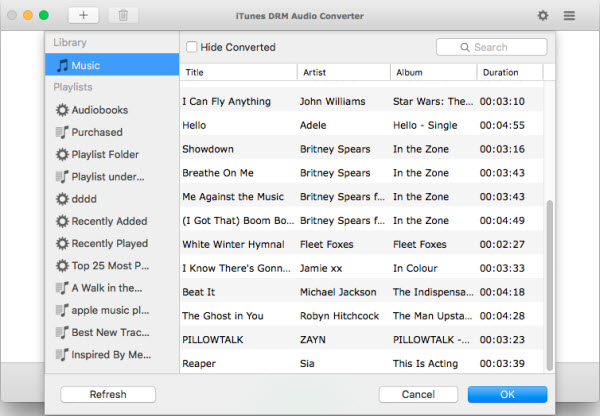 2. Convert Apple Music to MP3
Click the gear button on the top right and choose the output format as MP3. You are also able to set the output audio quality as well as the conversion speed in the panel. Be sure that you choose 256 kbps audio quality which is the same as the Apple Music.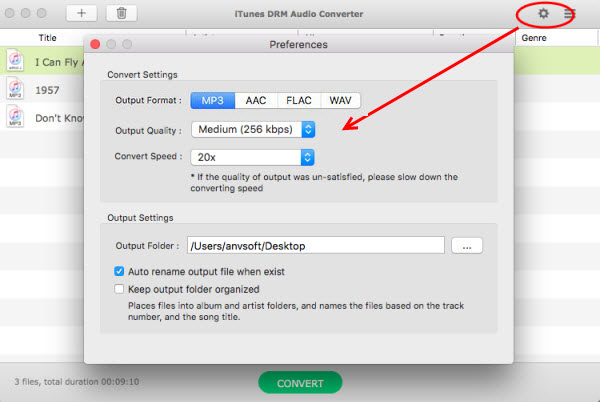 3. Transfer Apple Music to USB Flash Drive
You can find the converted Apple Music songs in the destination folder. These MP3 songs are DRM-free and can be transferred to USB stick by plugging the USB into your Mac.
$39.95 Buy Now (Mac)
$39.95 Buy Now (Windows)