You Can Now Ask Alexa to Play Apple Music with Amazon Echo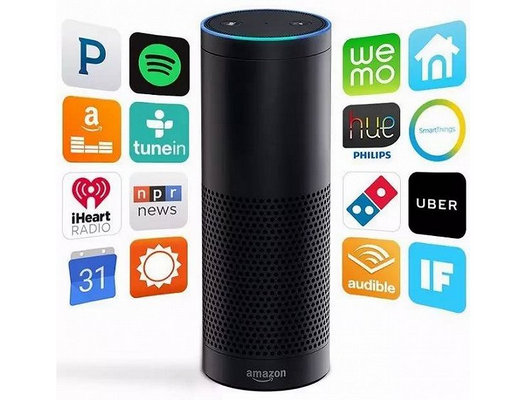 Controlling home by voice is going to be a lot of fun. Amazon Echo, a nine-inch black cylinder, is such a smart speaker that connects to the voice-controlled intelligent personal assistant service Alexa. You can use Amazon Echo to do certain things like play music, set alarms, make to-do-list, order items from Amazon, and control a smart home. To play an audio? It becomes extremely simple when having an Amazon Echo. Instead of tapping here and there on the phone, you only need to hook up your account to the Echo, then simply ask Alexa to play whatever you want. Unsurprisingly Echo includes Amazon's own music services, as well as some others such as Spotify, Pandora. So what about other streaming services such as Apple Music? Does Amazon open to have Apple Music on the Echo? Is it possible to stream Apple Music to Amazon Echo? The post would answer these questions and show you how to play Apple Music on Amazon Echo by asking Alexa.
Apple Music does not come to Amazon Echo
Amazon Echo is capable of playing music from other sources and streaming music from various services, including Spotify, Pandora, iHeartRadio, and Amazon Music. How about Apple Music? Unfortunately there is no support for Apple Music at the moment.
When will Apple Music come to Amazon Echo? According to a report from Bloomberg, Amazon's Dave Limp was quoted as saying, "We'd love to have Apple, but they're not super big." Perhaps Amazon thought Apple Music is not quite big enough to consider integration even though Apple Music has already racked up more than 20 million paid subscribers in two years since announced in 2015.
Use the Amazon Echo as a Bluetooth speaker to Play Apple Music
Although Apple Music is not native supported by Amazon Echo, Apple Music subscribers can still stream songs through the device, it's just that they'll need to pair their iPhone or iPad to the Echo and stream it from their phones instead. For people who also want to play music from iTunes library with Amazon Echo, they should also make it via Bluetooth. In this way, Amazon Echo is used as a Bluetooth speaker which does not make it unique.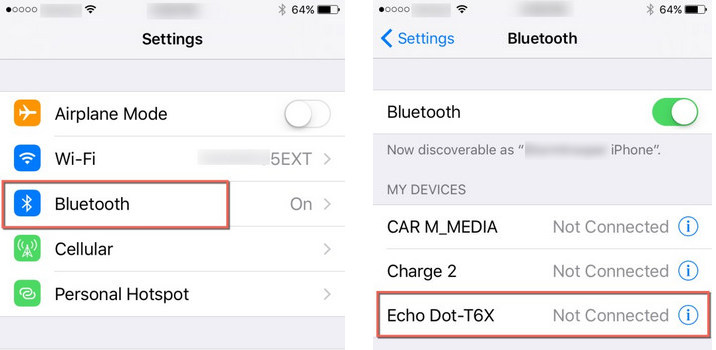 Here are the steps to stream Apple Music on Amazon Echo via Bluetooth:
Go to Settings. Then, tap on Bluetooth and toggle the button to the on position.
You'll now see your Amazon Echo device listed under My Devices. Tap on it and it'll pair with your phone or tablet.
Navigate to your Music application where your Apple Music are accessible and start playing them.
Now, Apple Music songs should be heard coming from your Amazon Echo device instead of your mobile device speaker.
Link Apple Music to Alexa on Amazon Echo
Pairing your device with the Echo using Bluetooth and selecting it as the audio output is an option to stream Apple Music from your iPhone. It is not a bad solution. But if what you intend to do is get Apple Music on Amazon Echo by using Alexa, then uploading Apple Music songs to Amazon is a great way. You can upload your Apple Music collection to your music library on Amazon and then stream the Apple Music through your Alexa device.
Before importing Apple Music to Amazon, we still have one thing to solve. That is, removing DRM from Apple Music or the songs from Apple Music could not be recognized and uploaded to Amazon successfully. Here we use Apple Music Converter to convert Apple Music tracks and playlists to plain DRM-free MP3 to walk you through.
$39.95 Buy Now (Mac)
$39.95 Buy Now (Windows)
Click the + button on the top or anywhere on the center to open the Add window. The Apple Music converter detects the whole iTunes music library automatically, so that you could simply select any playlist you saved or any track you prefer, then press OK to confirm.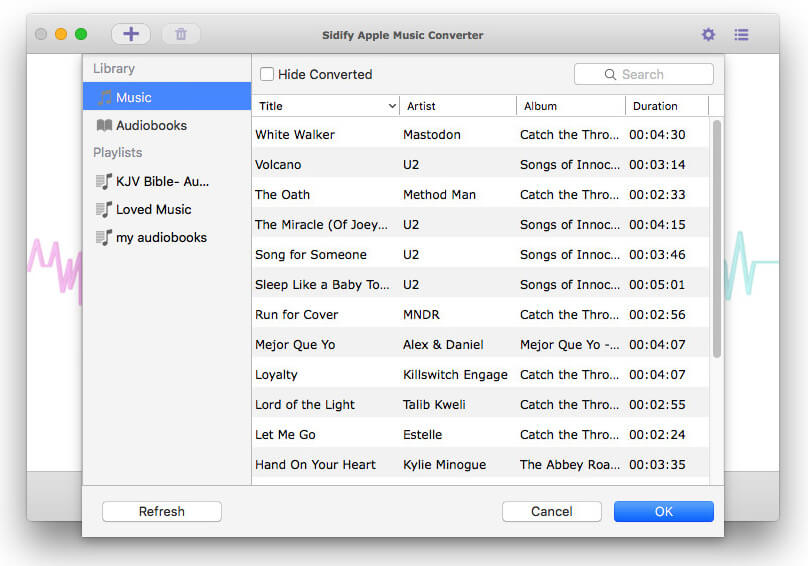 The chosen Apple Music songs are displayed on the main panel of the Apple Music Converter. Click the Gear button on the top right to open the Preference window where you could set the output format, audio quality, conversion speed and the way to organize the output file. For example, choose MP3 as output format, 320 kbps as output audio quality and 20x conversion speed.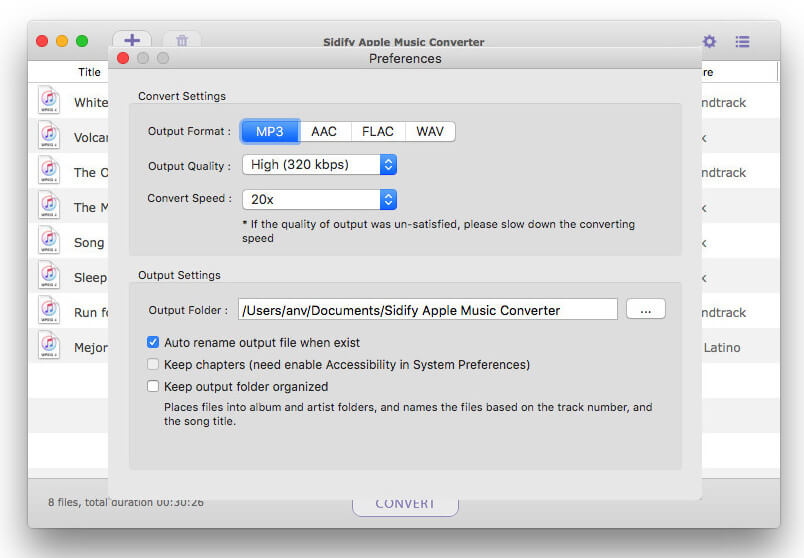 After pressing CONVERT button on the bottom, the Apple Music songs are being converting to MP3 at a very fast speed with high quality one by one. The output folder destination can be found by History > Folder. The songs from Apple Music are now DRM-free and could be able to upload to Amazon for playback via Alexa.

Skill to Stream Apple Music on Amazon Echo with Alexa
Upload the converted Apple Music songs to My Music on Amazon from your Mac or PC, when finished, you can ask Alexa to play your Apple Music songs on Amazon Echo and control playback with simple voice commands.

Run Amazon Music app on your PC or Mac and log in your ID.
Drag and drop files from the folder where stored the converted Apple Music songs into the Upload selection.

You can see uploaded music, and music that's uploading, by clicking the Uploaded filter in the left navigation sidebar. Once the Apple Music songs are imported to Amazon Music, you can play them on Echo or Echo Show speakers with simple voice command via Alexa. Speak "Alexa, pause" or "Alexa, next" and the music will pause or skip to the next song. You can also ask for Alexa to play music by genre, decade, mood, tempo, activity, and even lyrics. Amazing!
Note: The free users of Amazon can upload up to 250 songs to My Music. The subscribers can upload up to 250,000 songs.
$39.95 Buy Now (Mac)
$39.95 Buy Now (Windows)