How to Get Free Movies on iTunes Store and Download
iTunes store maybe the No.1 choice for most people to purchase the popular or the latest movies for its abundant media resources. Many new and hot movies which hit in theaters can be found available in iTunes. That saves people a trip to cinema. Although iTunes leaves an impression that people can only buy or rent the movies for watching, it does provide free iTunes videos for downloading without paying a penny. By following the guide, you are able to get the free movies on iTunes store from the list and download them for watching later. Let's find and download the "hidden" free iTunes videos now.
What you will need:
iTunes
 Apple ID
Computer with either Mac or Windows OS
The hard drive with enough space
Internet
iTunes is a necessity for searching free movies on iTunes store. It has both Mac and Windows versions. According to your OS platform, download and install the correct version of iTunes on your computer. Apple ID is the account you use for all Apple services, like the App Store, iTunes store, Apple Music, iCloud, iMessage, FaceTime and more. With internet and enough data space, it is available to download your favorite free iTunes movies on computer.
How to Find and Download the "hidden" Free Movies on iTunes?
After you have prepared, you could follow the 4 steps below to get the iTunes free videos at ease. Let's get started:
Step 1: Launch iTunes on your computer and login with your Apple ID
Open iTunes, sign in with your Apple ID. Click the icon on the top right beside search box, there will pop up a window to ask you enter your Apple ID information. If you don't have one, simply clicking "Create New Apple ID" to get one. Apple ID is a necessity in Apple ecosphere, it gives you access to all Apple services.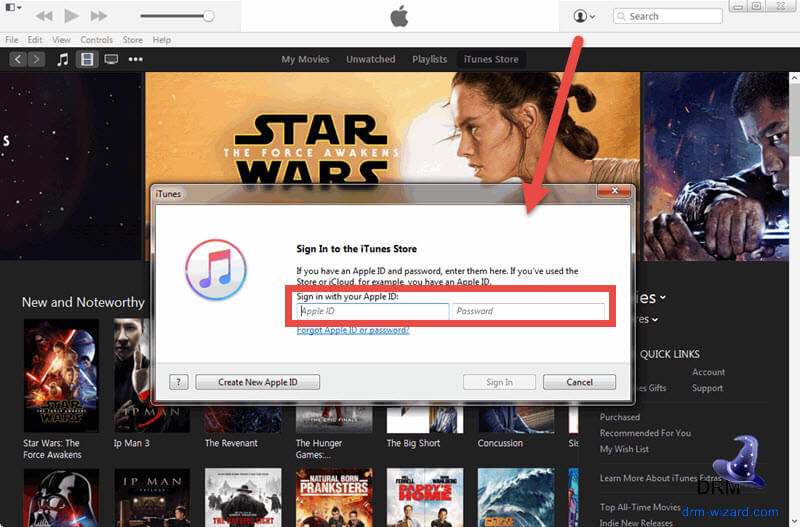 And be sure to authorize the computer by going to Store > Authorize This Computer. You can authorize maximum 5 computers with an Apple ID. It helps to view or download all your purchased or downloaded videos or songs when you switch the device.

Step 2: Go to iTunes Store and click icon TV Shows
Go to iTunes store and click the TV shows icon on the top left, you can view all TV Episodes listed. Scrolling down and find Free TV Episodes.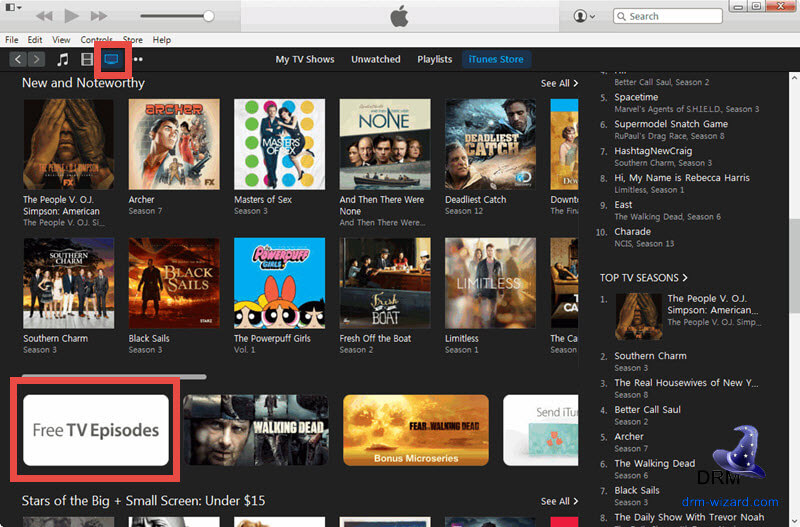 Step 3: Download free videos from iTunes
Now, you are entering the world of iTunes free videos. You could click any TV Episode for viewing more information or directly downloading to your iTunes library for watching.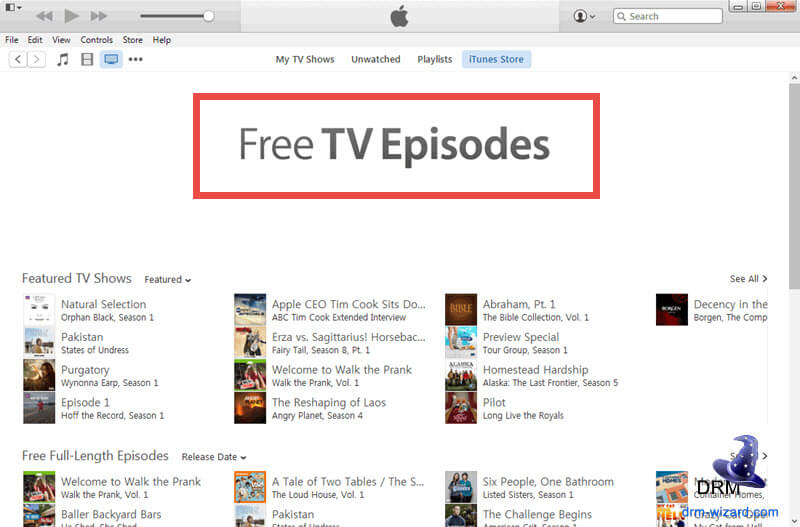 Select any video that you are interested, you could find the Episodes with Get HD mark. Click it and download it, that's all you will need to do.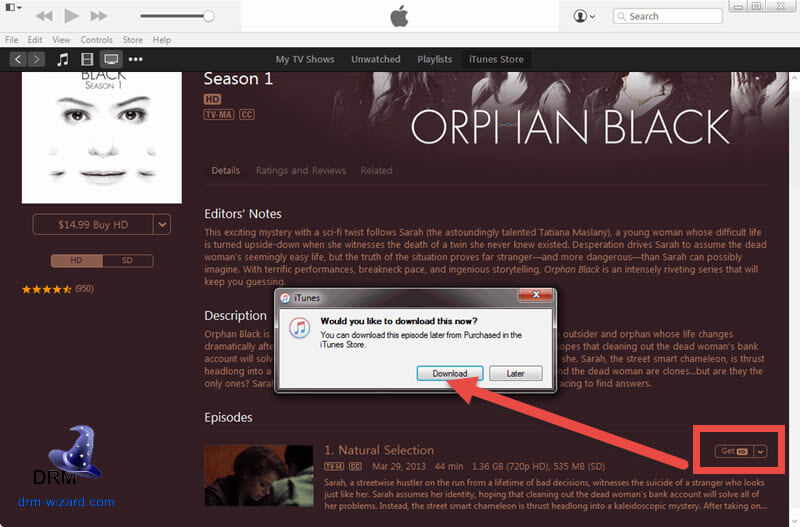 Depending on your net speed, the iTunes video can be downloaded completely in minutes. After that, you could find your new downloaded iTunes videos in your iTunes library, under TV shows tab.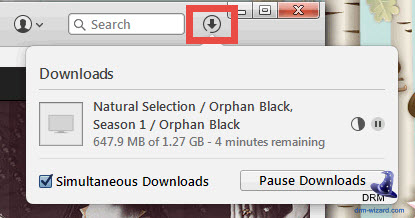 Step 4: Watch the downloaded iTunes free movie
There is no difference between free iTunes video and purchased iTunes movies except for no cost. With only 4 steps, you could get the free iTunes movies on iTunes store and download them for watching. They are of high quality and could be played in iTunes or iPhone, iPad like any other iTunes video do.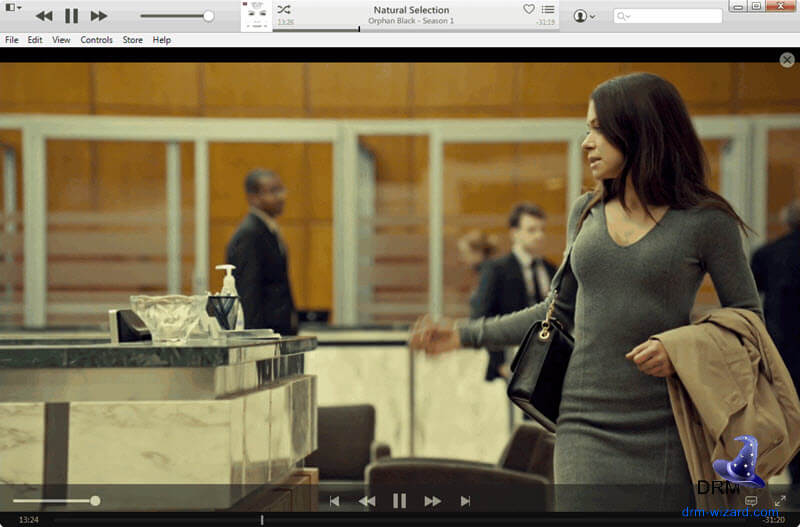 You may want to ask if there are any free songs available for download in iTunes? Sorry, no. Except for purchasing iTunes music, you have the choice to subscribe to Apple Music, a music streaming service announced by Apple in June 2015. It charges you $9.99 per month, but offers you access to millions of songs.
How to Transfer iTunes Free Movies to Android Phones, PS4 or Play with Windows Media Player?
Wanna play these free iTunes movies on other media player or on your smart phone? Sorry, no. You have no chance to watch the downloaded free iTunes videos on media players such as VLC, Windows media player, MPlayer, or other non-Apple devices such as Android phones, tablets, Windows phone, PS4, PSP…
Apple adds FairPlay DRM on all iTunes movies, TV shows including Apple Music to control the customers using the media content under their way. The media content includes free TV Episodes in iTunes too. To free the iTunes movies, TV shows, or the downloaded free iTunes videos, the only way is to remove the DRM. With iTunes DRM removal, you are able to watch the downloaded free iTunes movies on any media player or with your own portable devices without restriction. It can be done in simple 3 steps.
$49.95 Buy Now (Mac)
$49.95 Buy Now (Windows)
Step 1: Add the downloaded free iTunes videos
Click Add Movies button to import the free movies downloaded from iTunes. The iTunes movie DRM removal detects the iTunes library automatically which offers a much convenient way to locate and select the iTunes movie.
Step 2: Convert to MP4
Choose MP4 as output format and press Convert button to start converting the free iTunes movies to DRM-free MP4. MP4 is the most compatible format that supported by media players and your portable devices.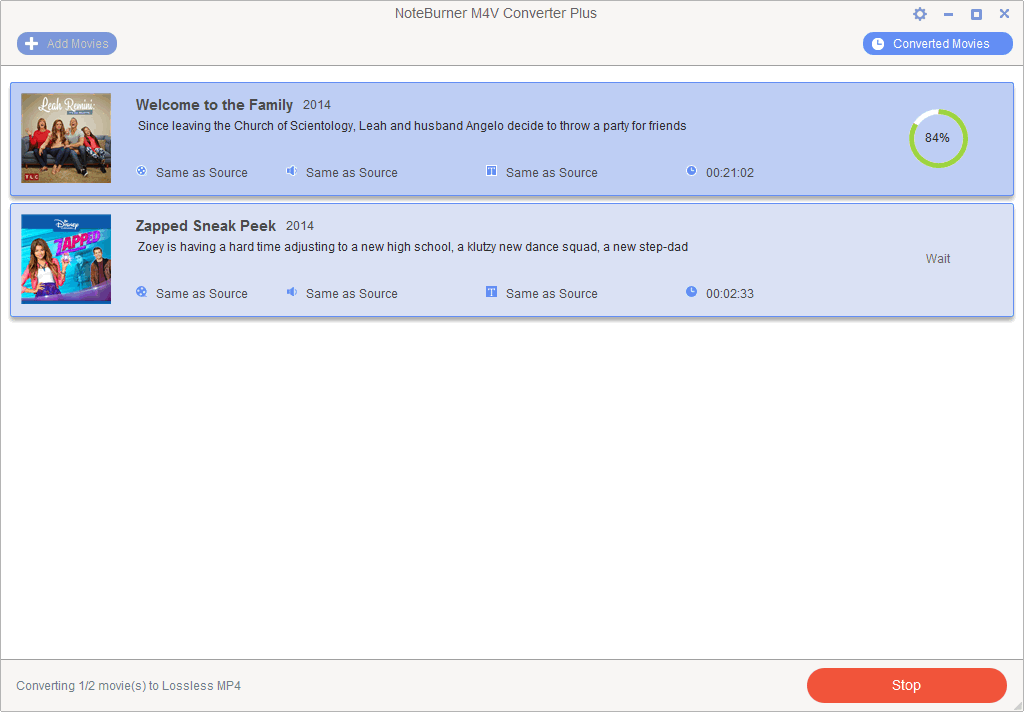 Step 3: Transfer the DRM-free iTunes free videos to Android devices…
After the conversion is completed, you could find the converted videos under the preset destination folder. Connect your Android phone to computer and then transfer the converted iTunes free movies to your devices.
Other features of iTunes DRM Removal:
The converted iTunes free movie can also be saved on external hard drive.
The converted iTunes free movie retains CC if the original movie has.
The iTunes movie DRM removal could remove DRM from iTunes purchased and rental movie.
The iTunes movie DRM removal converts the iTunes videos at maximum 20x fast speed.
$49.95 Buy Now (Mac)
$49.95 Buy Now (Windows)