Noteburner M4V Converter Plus Full Review and Testing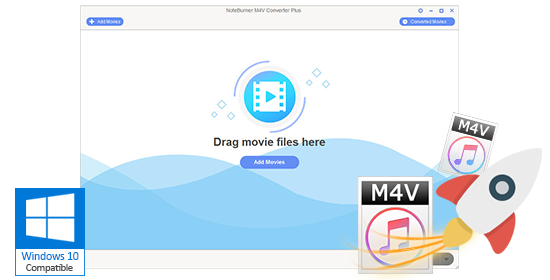 If you have ever downloaded, rented or purchased movies from iTunes Store, you must know that the downloaded iTunes movies cannot read properly via other media players but iTunes and Apple devices. It is because of Apple Fairplay DRM, which preserves the exclusiveness of iTunes videos. To help people get the chance of holding their bought iTunes movies with more freedom, DRM removal tools are made to convert these videos for more widely usage.  When talking about removing DRM from iTunes videos, Noteburner M4V Converter Plus is a standout iTunes video DRM remover for its reputation, quality, speed and feature. It is one of the most popular DRM removal tools in the market and today we are discussing Noteburner here.
(Noteburner developed an Apple Music converter called iTunes DRM Audio Converter, you can check the review if interested.)
Noteburner has both Windows and Mac versions. In this post, we will give Noteburner M4V Converter Plus for Windows a full review on how it works on removing DRM from iTunes video. The review would show you the steps to use Noteburner iTunes M4V converter to convert our two testing iTunes TV shows and check the output video quality as well as conversion speed.
Full Review on Noteburner M4V Converter Plus for Windows
Introduction:
Noteburner M4V Converter Plus is a comprehensive iTunes M4V movie Converter. It lets you convert iTunes video rentals and purchases to another DRM-free format with 100% lossless quality. Output to various formats like AVI, MP4, MOV, FLV, MP3, AAC…, while retaining all subtitles and audio tracks after conversion at 20X faster conversion speed.
$49.95 Buy Now (Mac)
$49.95 Buy Now (Windows)
 Product name
 Noteburner M4V Converter Plus
 Description
 Remove DRM from iTunes purchased and rented videos with fast speed and lossless quality.
 Price
 $49.95 (Buy Mac Version)  (Buy Windows Version)
 Size
 8.9M
 Version
 5.1.5 -> 5.3.4 (latest update on Oct. 3rd, 2017)
 OS
Windows XP, Vista, 7, 8, 10 (32-bit & 64-bit)

Mac OS X 10.7, 10.8, 10.9, 10.10, 10.11 and macOS 10.12 Sierra

 Others
 iTunes must be installed
Testing videos info:
| | | | | | |
| --- | --- | --- | --- | --- | --- |
| Testing file name | length | Subtitle | Frame size | Video size | Total bitrate |
| Welcome to the family (HD).m4v | 00:21:02 | CC | 1280*720 | 661MB | 4240kbps |
| Zapped Sneak Peek (HD).m4v | 00:02:33 | None | 1280*718 | 81.00MB | 4227kbps |
Testing Computer Operation System: Windows 7 32-bit
iTunes version: 12.2.1 -> 12.5.5 (updated on March 15th, 2017) -> 12.7 (updated on Oct. 3rd, 2017)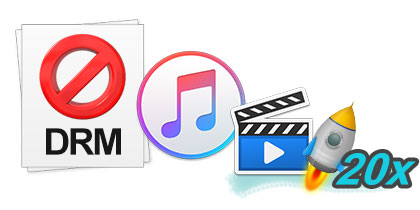 Our two testing iTunes video location are in:
Music\iTunes\iTunes Media\TV Shows\Zapped
Music\iTunes\iTunes Media\TV Shows\Leah Remini_ It's All Relative\Season 1
Update: We noticed a major update of Noteburner M4V Converter Plus which changed the program interface. The review of Noteburner M4V Converter Plus was updated on March 15th, 2017, based on the new interface of Noteburner M4V Converter Plus and the iTunes version 12.5.5. The steps of converting iTunes M4V movies were a bit different from the old version, but don't worry, it is easy as the same. And we added the video tutorial for your better understanding.
Update: We tested Noteburner M4V Converter Plus under iTunes 12.7 on September 15th, 2017. The program works with iTunes 12.7 perfectly on Windows platforms.
Here we go:
Double click the program icon to run Noteburner M4V Converter Plus. The iTunes would start automatically, but it can be hidden in the task bar. To add the iTunes files, just click "Add Files" button in the middle or on the top left. We saw a pop-up window that displayed the iTunes library fully. We choose the two testing files and click OK to select them successfully.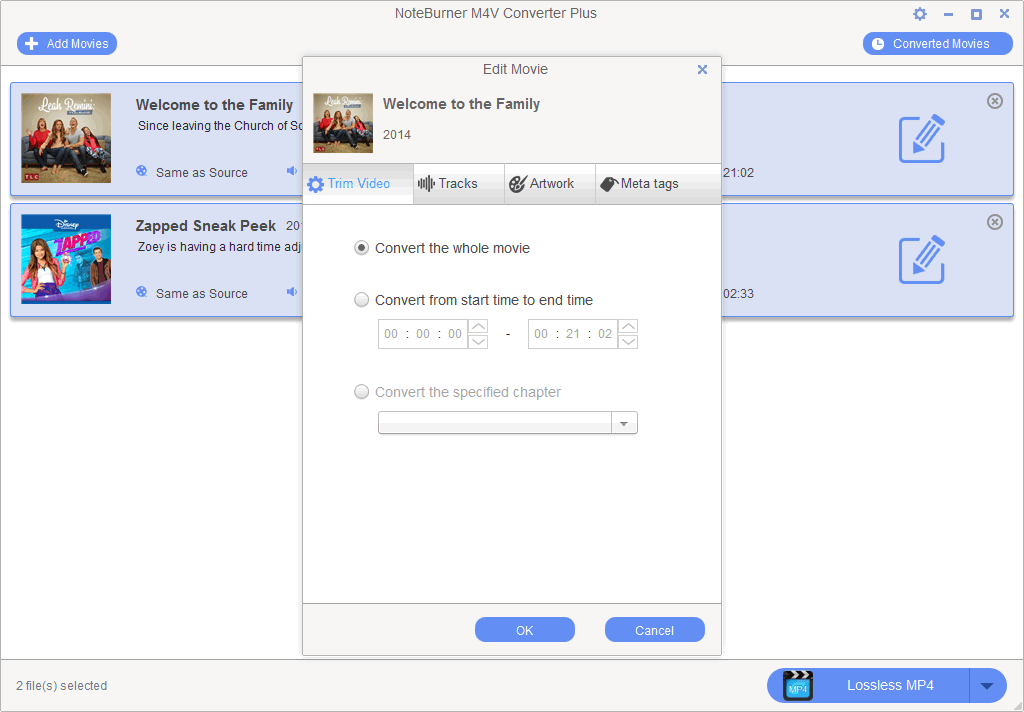 The testing files were listed on the main panel of the program. There are options such as time length, video, audio available to set. By clicking the Edit icon, we found it is possible to edit the movie info such as length, tracks, artwork and meta tags.
Then we move to the bottom right to select the output format. Noteburner M4V Converter Plus offers various of output formats such as Apple device, Apple software, Android device, Game consoles, Web video, customize video/audio and etc. We pick "Lossless MP4" as output format as we think it should be the best format for keeping the original iTunes video quality. (It is also the recommended output format by Noteburner official site.)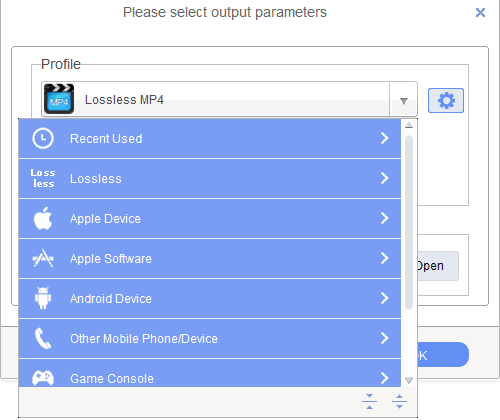 Noteburner site also gives us a hint that if choosing Lossless MP4 (for Windows) or "Same as source for MP4" (for Mac) / "Same as source for MOV" (for Mac) as output, all subtitles and audio tracks of original iTunes movie will be kept after conversion including CC and Dolby 5.1 audio as well as AD track. We would check that later.
Finally, we start the iTunes video conversion. iTunes flashed for a while. Then, the program process circle starts to move and it moves very smoothly. It converts the video one by one.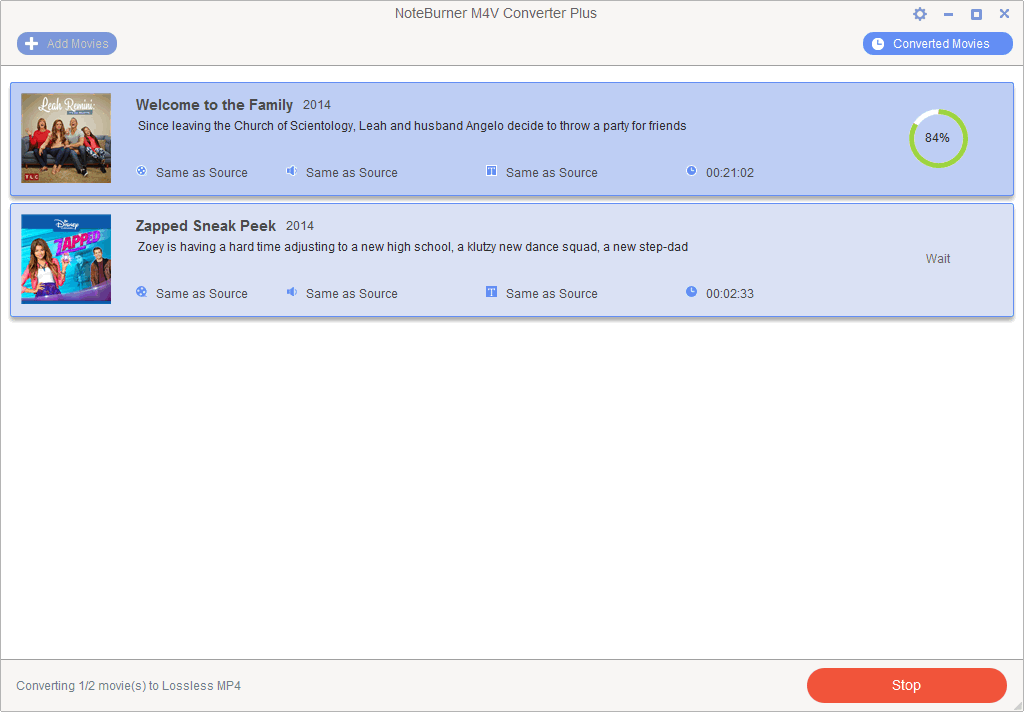 To our surprise, the total conversion time it cost was only 2 minutes. That is, the program converted 24 minutes iTunes video within 2 minutes. Wow, it is really amazing!
$49.95 Buy Now (Mac)
$49.95 Buy Now (Windows)
Now, it is time to check the output video quality and see whether the CC can be kept after conversion. We opened the output folder and found the two converted videos in *.mp4 format. By comparing the parameters, we see Noteburner had a very good preservation for the original iTunes video with exactly the same size and bitrate.
Here is the parameters of the converted video: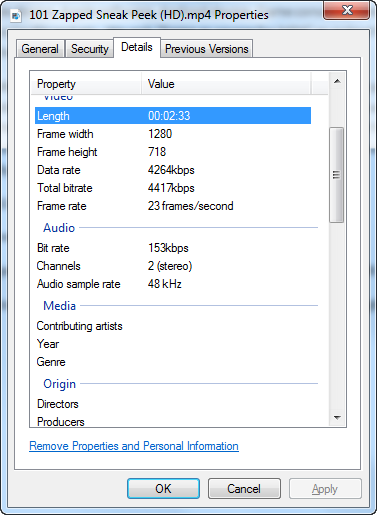 What will the output video look like? Is Noteburner compatible of keeping lossless quality as advertised? We use iTunes to play the original video and the converted one, then took a snapshoot on both files, so that we could see the quality difference in a better view.
Original Video in iTunes: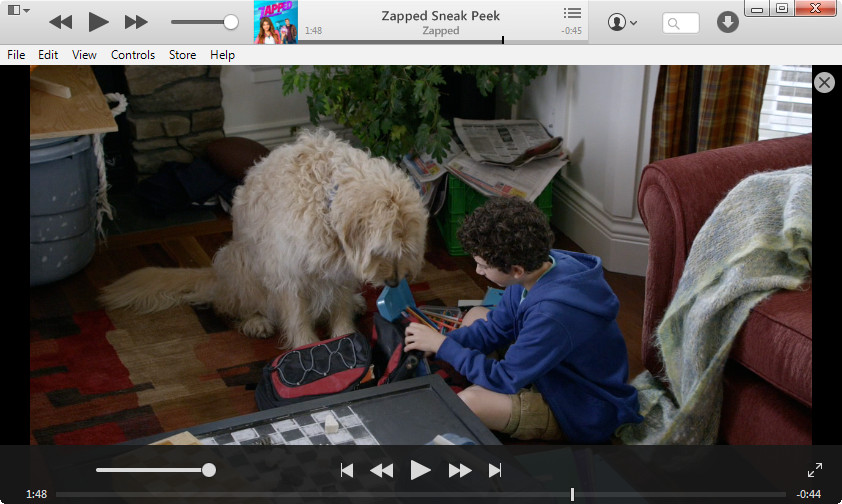 Video after converted: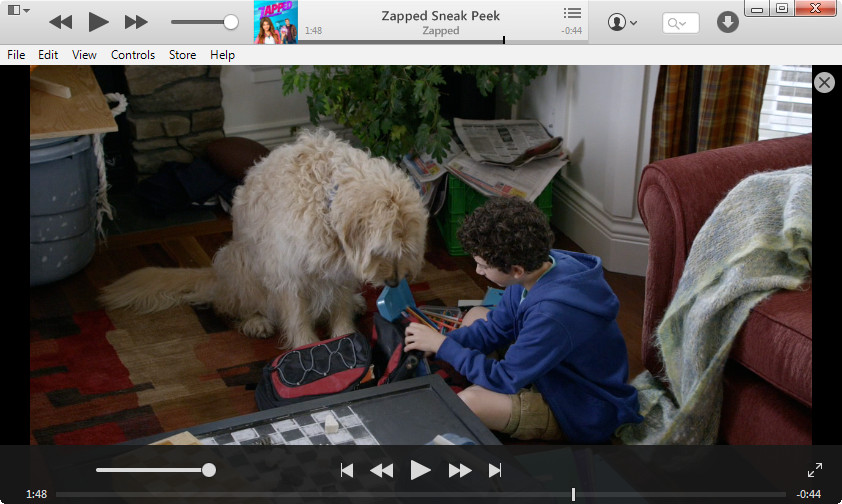 Very impressive! We can't tell which one is our original testing iTunes video.
As for the CC subtitle, we found it in the converted "Welcome to the family (HD).mp4"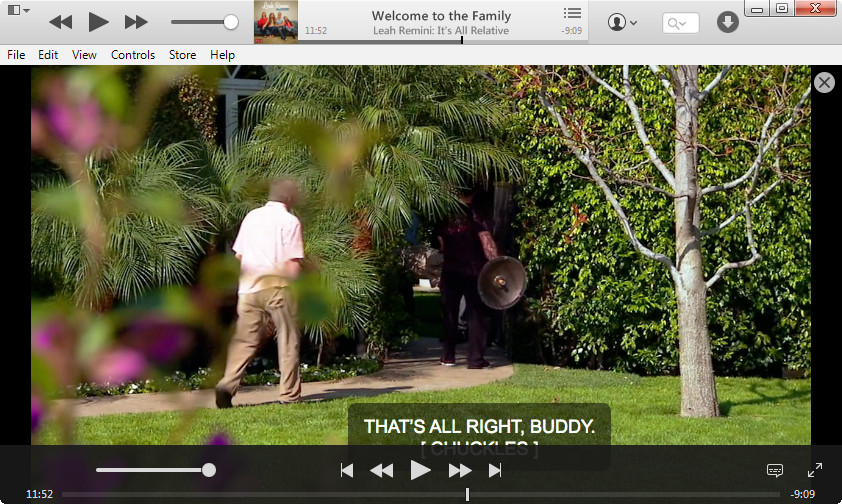 Conclusion:
If you are looking for a tool to convert iTunes M4V videos for playing on media players other than Apple devices, Noteburner M4V Converter Plus can get it done very well with an impressive speed and quality.
Score: 9/10
Pros:
Work with iTunes purchased and rental videos
Keep subtitles including CC
Retain all audio tracks including 5.1 surrounding audio and AD track
Very fast conversion speed with lossless quality
Cons:
Only support iTunes M4V videos
A bit outdated output profile
The price for Noteburner M4V Converter Plus is $49.95. It sounds a bit high, but considering the quality and the money saved by buying multiple versions of iTunes movie, it is worthy the money. Would like a try? Enjoy lifetime free updates and technical support after purchase.
$49.95 Buy Now (Mac)
$49.95 Buy Now (Windows)
Video Tutorial: How to use NoteBurner M4V Converter Plus V5.3.1 to remove DRM from iTunes Movies on Windows?