Sidify Music Converter for Spotify Review – How does Sidify Work?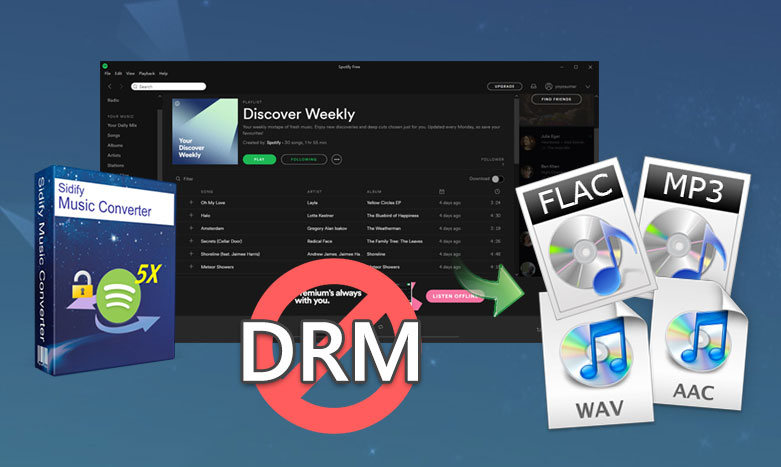 Want to download Spotify music and load it onto an iPod? Or prefer listening to Spotify songs with MP3 player? Or wanna enjoying Spotify music while driving the car? We have introduced you 5 ways to download Spotify music to solve these problem. Sidify Music Converter for Spotify is one of the 5 effective solutions. And today, we are going to review Sidify Music Converter for Spotify in full aspects and tell you how does Sidify work. If you are looking for a Spotify music downloader or Spotify to MP3 converter, and wanna give Sidify a try, don't miss this review. You would get everything you should know about Sidify Music Converter for Spotify in this post.
Introduction of Sidify Music Converter for Spotify
It is not our first time to review Sidify's product. Earlier, we reviewed Sidify Apple Music Converter, an easy-to-use and light Apple Music Converter. Sidify has two main product lines: one is Apple Music Converter, and the other is Spotify music converter. The Sidify Music Converter for Spotify is quite popular and has won a high reputation among the customers all over the world.
The Sidify Spotify music converter is a standalone application that works on both Mac and Windows platforms and is used to convert Spotify tracks or playlists to plain MP3, AAC… audios with lossless quality, while retaining the ID3 tags. With this application, you are able to download Spotify songs from Spotify for playback on computer or transfer to other devices without any limitation.
$39.95 Buy Now (Mac)
$39.95 Buy Now (Windows)
How does Sidify Music Converter for Spotify work on Windows?
Once download the program, click on the setup file to install it. The installation for this software is incredibly easy. It takes only a few seconds to set up, and before you know it, it's ready to go. The program is compatible with Windows XP, Vista, 7, 8, 10 (32-bit & 64-bit).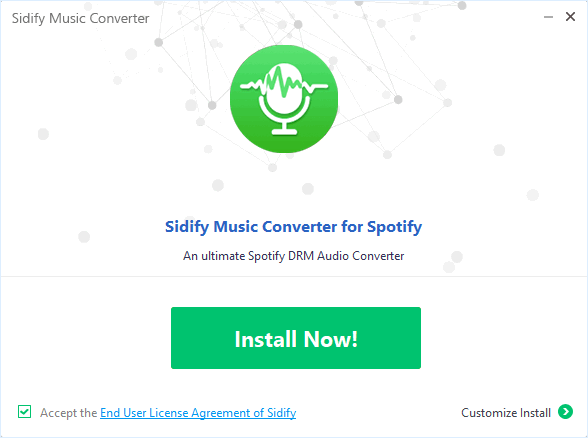 Launch Sidify Music Converter for Spotify, you may fall in love with it at the first sight. It is elegant, very intuitive and exceptionally easy to use.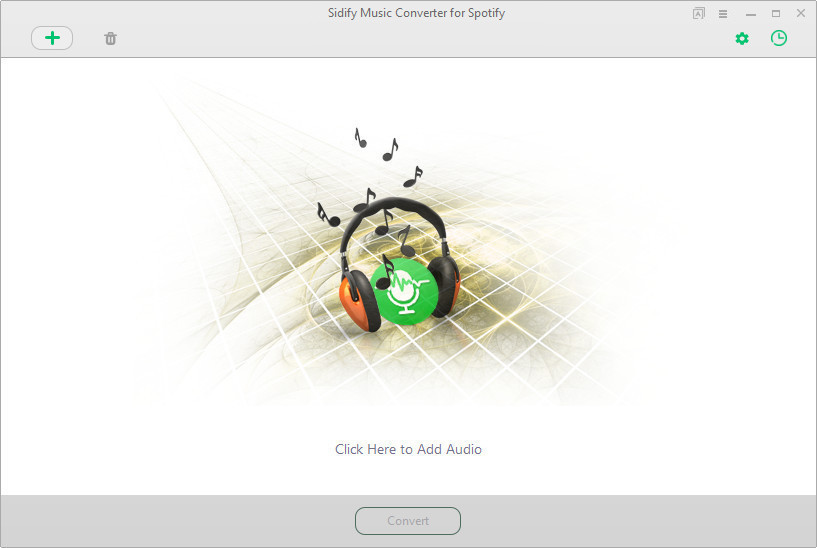 Click anywhere in the center or head on over to the top left section of the program interface and click on the "+" button to add the songs or playlist you wish to convert from Spotify. Once you have added the songs, click the "OK" button.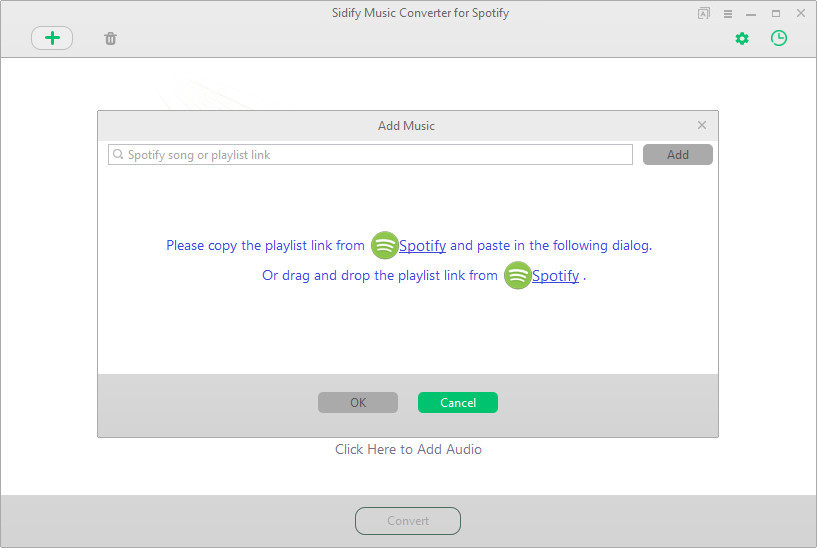 Note that Spotify app would be opened automatically along with Sidify. To convert any Spotify song, go to Spotify app and copy the Spotify single track or playlist URL, then paste the link to Sidify. Sidify Music Converter for Spotify would start to analyze the files and add them.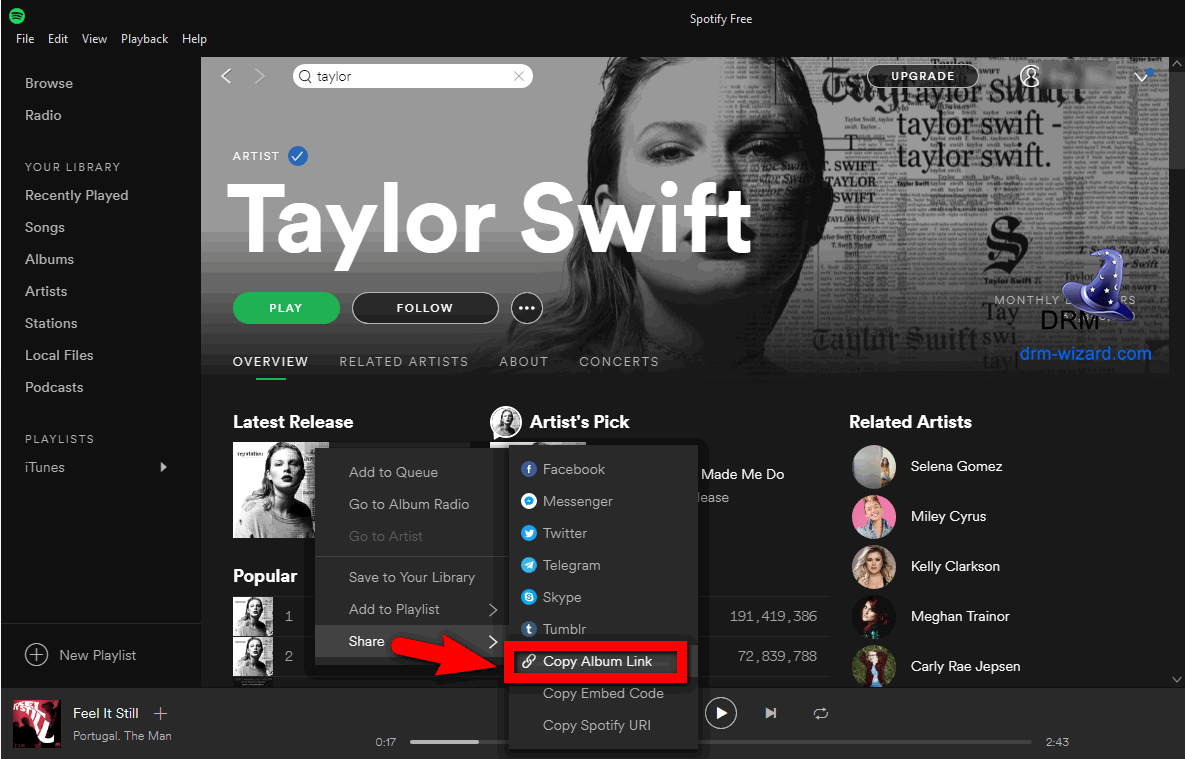 The default output format is MP3 and the output audio quality is set to 256 kbps. If you wish to change the settings, click on the settings icon on the top right section of the interface. There you can change the output quality, conversion speed and the format you want the songs converted into.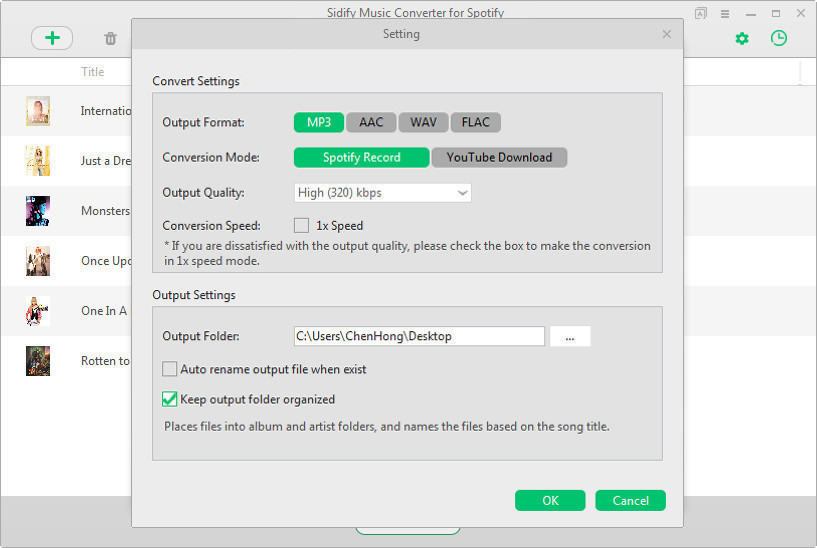 It is important to mention that Sidify offers two modes to convert Spotify songs, one is Spotify record, and the other is YouTube download. Generally speaking, the quality of the output audio is better when choosing Spotify record mode. But sometimes, the conversion speed is somehow faster with YouTube download mode.
And there is an option to keep output folder organized. If the option is checked, the program would place files into album and artist folder, and names the files based on the song title. It is a good option if you want to manage the songs easily.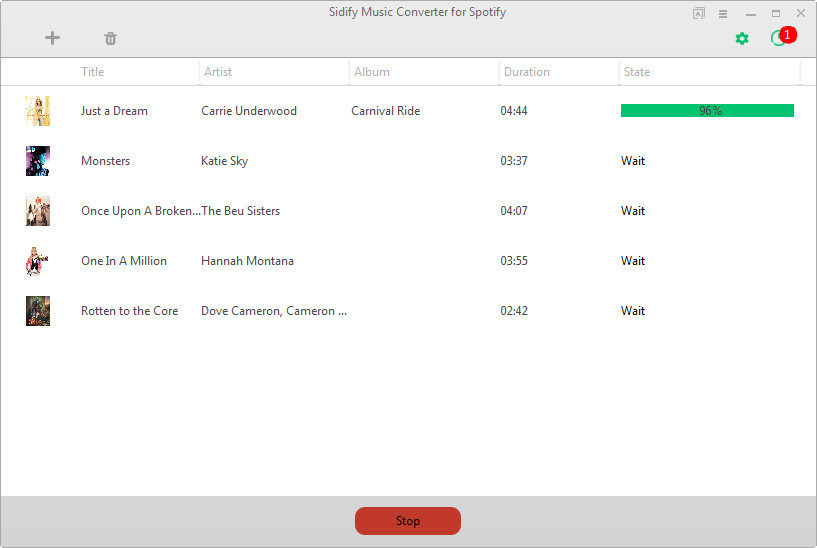 Click the "CONVERT" button and wait a few moments to enjoy your favorite songs converted from Spotify. You can view the songs you had previously downloaded by clicking on the history icon placed right next to the settings icon.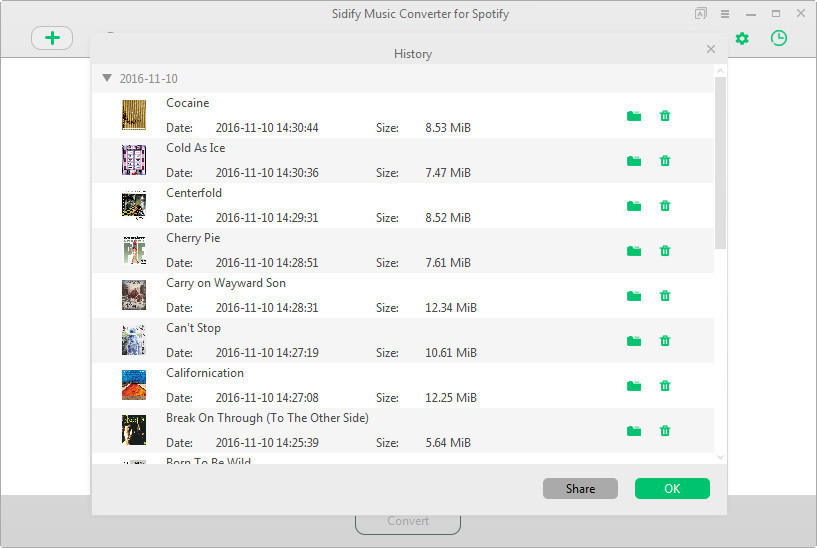 $39.95 Buy Now (Mac)
$39.95 Buy Now (Windows)
How does Sidify Music Converter for Spotify work on Mac?
Sidify Music Converter for Spotify has the version for Mac OS too. It is compatible with Mac OS X 10.9, 10.10, 10.11, 10.12 and 10.13. As the same, Spotify app should be installed for using Sidify normally.
Launch Mac version of Sidify Music Converter for Spotify, the interface looks close like the Windows version, clean and intuitive. The Spotify application will open automatically at the same time.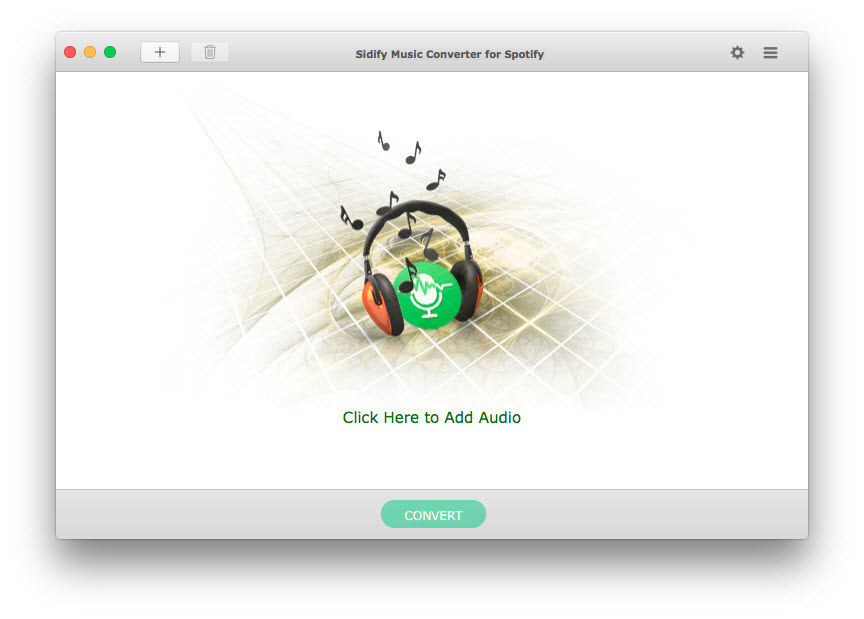 Click the + button or click anywhere on the center to open the Add screen, where you could drag and drop any songs or playlist from Spotify to Sidify program.

Click the menu bar "Sidify Music Converter for Spotify > Preferences" or directly click the settings button on the right to open the Preferences window. It contains Convert settings and output settings. In Convert settings, you can choose output format from MP3, AAC, FLAC to WAV, output quality from 320kbps, 256kbps, 128kbps to 64kbps. In the output settings, you could change the output folder as you prefer and choose whether to keep the output files organized.

When finish customization, click "CONVERT" button to start conversion. The converted Spotify audios can be found in the destination folder you previous set or click the history button on the top right to open them directly.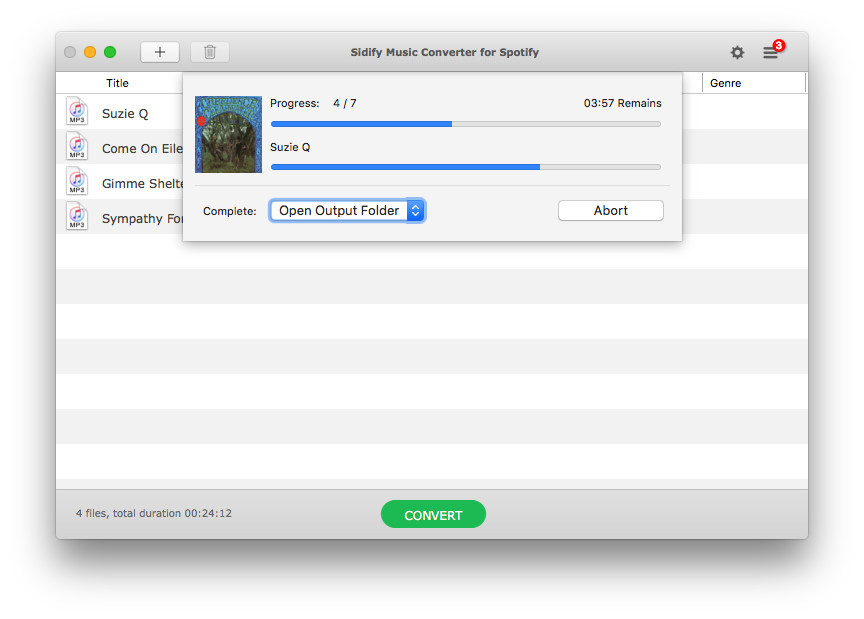 $39.95 Buy Now (Mac)
$39.95 Buy Now (Windows)
Features of Sidify Music Converter for Spotify
Convert songs or playlist on Spotify to other playable formats such as MP3, FLAC, AAC, WAV.
Preserve lossless quality after conversion.
Up to 5X fast conversion speed.
Retain ID3 tags such as Artists, Album, Year, Title and etc.
Burn Spotify songs to CD or share to friends via Email in one-click. (Windows version only)
No matter you are using Windows or Mac based computer, it is quite easy to download any songs from Spotify to plain audios for backing-up or transferring with Sidify Music Converter for Spotify. It does a great job re-recording the Spotify DRM protected files with fast speed and very good quality.
Video tutorial: how to convert Spotify music to MP3 with Sidify Spotify music converter?
Is Sidify Music Converter for Spotify legal? How much does it cost?
The program is for personal usage only. If you subscribe Spotify premium and would like to listen to Spotify music with your own devices that are not supported by Spotify, Sidify helps a lot, and in our opinion, it is legal to use Sidify under this situation.
Sidify Music Converter for Spotify costs $39.95 per license. Regarding the payment includes the lifetime regular updates and technical support, as well as its excellent ability to convert Spotify songs to MP3 or other audios, it is a good deal to try Sidify Music Converter for Spotify if you are looking for a tool to download Spotify music successfully.
$39.95 Buy Now (Mac)
$39.95 Buy Now (Windows)